The Older Persons Assessment and Liaison (OPAL) service started in December 2016 at the Salisbury NHS Foundation Trust. It started with an idea that was shared between the Therapy service and the Geriatrician team, that if we had a specific front door Frailty service we could reduce admissions and improve patient care. Over the years that team has expanded and evolved but the OPAL ethos has always stayed the same: For older patients at the front door to receive a comprehensive, patient centred assessment, appropriate to their needs. The service currently includes Occupational Therapists, Specialist Nurse, Physiotherapists and part time Geriatrician cover. We assess patients in the Emergency Department (ED), Short Stay Unit (SSEU) and Acute Medical Unit (AMU).
The reason the OPAL team has been able to expand and evolve, with our Trust being in no better a financial position than any other Trust, is because we measure for improvement. Constantly. It's ingrained in every day working processes in the team, we all talk the language of improvement, and it works.
We aim for patients to go home on the same day that we see them, however if they require medical admission we hand over their needs to the ward teams.
We measure how many same day discharges occur each day, as well as reasons for not discharging, so that we can evaluate further areas for improvement.
We created a Frailty Pathway to reduce delays caused by multiple ward moves and outlying. The goal of the pathway being that patients that are assessed by OPAL at the front door are moved to an Older Persons Medical Ward where they are managed by Geriatrician led teams.

We measure the average length of stay for patients that do and don't follow our pathway, as well as the reasons why patient don't follow our pathway so that we can evaluate further areas for improvement.


It's not a perfect system, but we try to make it as consistent and reliable as possible. With the in-reach project we in-reached to patients with an EDD of 72 hours, due to team capacity, we didn't have the staffing to follow every patient. This was also difficult because setting an EDD isn't an exact science, which resulted in handing over some of our patients to the ward teams as we didn't have capacity to continue.
The moral of the OPAL story is that measuring for improvement is how this team has continued to succeed. It isn't always easy, it's never perfect, and it takes dedication from the whole team to record the data, analyse it and share it. However, being able to evidence our great work has helped keep the passion alive within the team and has undoubtedly helped evidence requests for further investment in the service. We make a conscious effort to review data regularly to look for trends/problems that we can address with a QI approach.
For those of you that don't measure- just start. Start small. Start with curiosity. The answers you get will generate more questions and the data you record will grow. Don't aim for perfect, aim for better. Do it as a team. This isn't a task that a manager can achieve in isolation, improvement is a team sport! And learn how to use Excel, nothing speaks louder than a graph to make your case!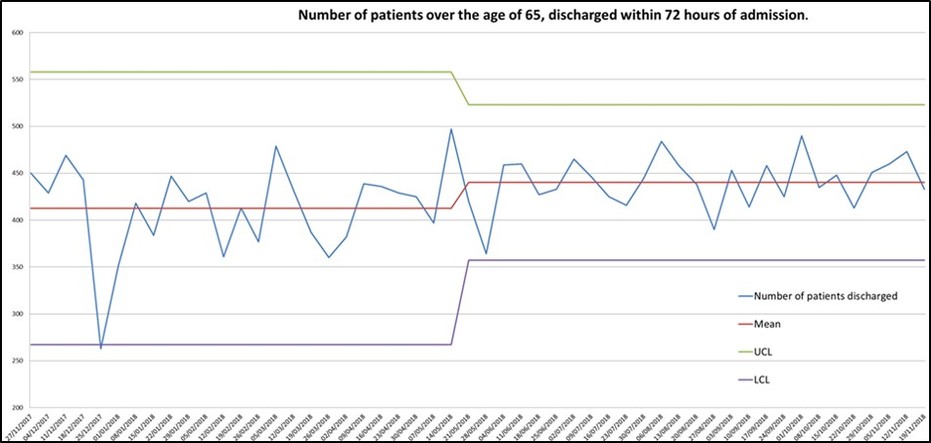 Contact: Anita Whalley, Lead Occupational Therapist, Salisbury NHS Foundation Trust
Email: [email protected]
Twitter: @AnitaWhalley