The team at Birmingham Health Paertners has put together an infographic showing members of the public how to safely use their mask.
We are having this translated into lots of different languages to help as many people as possible - we are more than happy for Trusts and primary care providers to share, print and display these.
You can find them at HERE and we are tweeting the new versions out as soon as they are checked and approved by a native speaker.
In the COVID-19 pandemic, mass masking with cloth masks is an important and sustainable addition to social distancing and hand hygiene. It should be seen as an altruistic act rather than self-protection. In actively involving every citizen, it is a symbol of social solidarity in our fight against the disease.
When wearing a mask, there is a correct way to put on and remove your mask to maintain protection. These infographics summarise the advice, and other languages can be found at the end of the page.
Masks help reduce droplets containing the virus released when you breathe, speak or cough, and may also lower the chance of droplets entering through your mouth and nose if worn correctly.
Of homemade masks, 100% cotton masks block the most viral particles, according to research comparing various homemade material masks.
Wool or knitted masks or scarves do not work as the gaps are too large.
Surgical masks provide greater protection, but our NHS and care home staff need these.
To wear a mask correctly:
Wash your hands
Place clean mask over nose and mouth
Do not remove to speak to people, cough or sneeze
Do not touch the mask until you are ready to remove it at home
To remove your mask:
Wash your hands
Remove by the straps
Bin or wash at 60c or above
Wash your hands again
Remember – we must still follow government and WHO guidelines at all times: maintain social distancing of 2m at all times.
If you wear gloves, don't touch your face or mask while wearing them. Wash your hands before putting them on and after taking them off, and before removing your mask.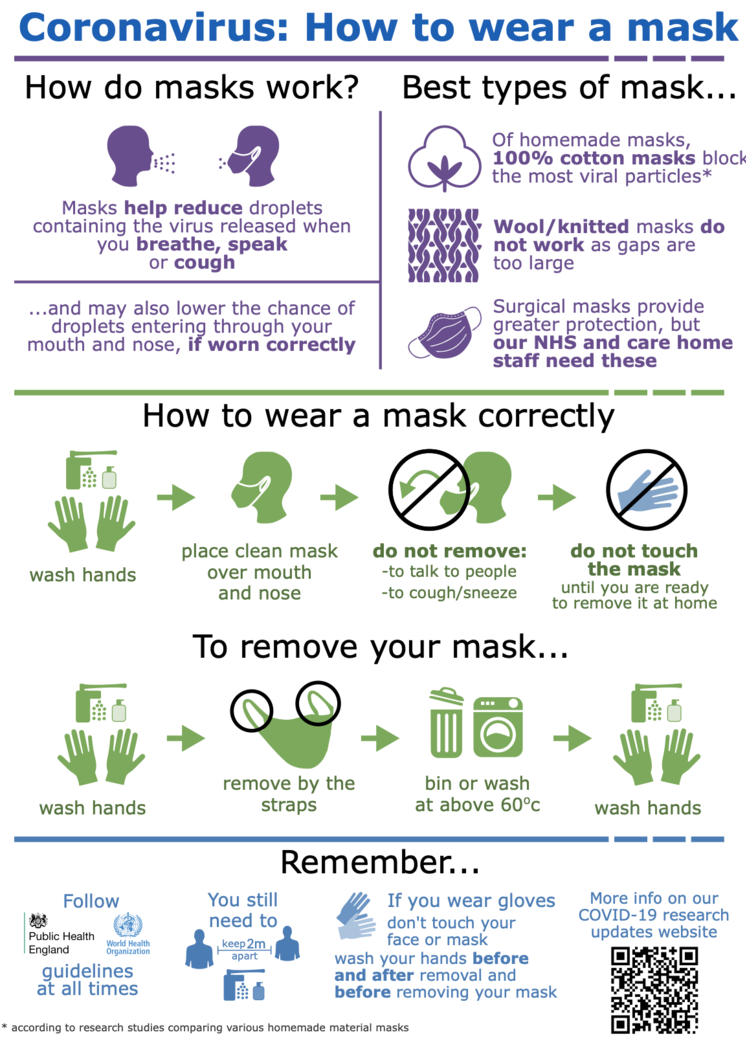 French Poster HERE
Spanish Poster HERE
Please share freely both on and offline – please tag @BHPComms in any social media posts.