This year we want to make it as easy as possible for you to share your work, ideas, solutions and service improvements
To say that 2021 has been tough year for health and social care is probably the understatement of the year ..... We want to make sure your work from the last year is celebrated, and that the learning isn't forgotten. We also want to ensure that the things you have done to support your colleagues and the often small changes you have made to services and care for patients during the last year are shared, learned from and taken forward into the coming year.
You can choose what you want to share:
You can pledge
You can share what you are doing, even if it's not completed
You can celebrate your organisations work
You can share your workforce wellbeing initiatives
You can share the ways in which you have used digital solutions to improve communication and service delivery
You can amplify sharing & learning however you choose


You can also choose how you want to share:
You can submit your work via the Fab website as normal via this LINK - just click on the red 'share your fab stuff here' button

If you havent already registered with the website you will need to do so , it's simple and the page will prompt you how to do this.
When you click on the share your stuff link you will see the page shown in the image below.
Fill in your name, email and the title of your work.
You can then free type your work or you can write a brief explanation of the work and upload up to 5 images or documents.
If you already have a poster presentation, save it as a PDF and upload as a document
If you have a powerpoint presentation, again you can upload as a document.
You can also upload images.
Not everyone wants to write things down - and that's ok, you can upload a voicememo or audio file from your phone/computer as a document, and tell us about your work and what learnings and outcomes you want to share with others. If you'd prefer to record a video on your phone, you can upload that file instead of a written explanation. All you need to do is fill in your name, email and the title of your work.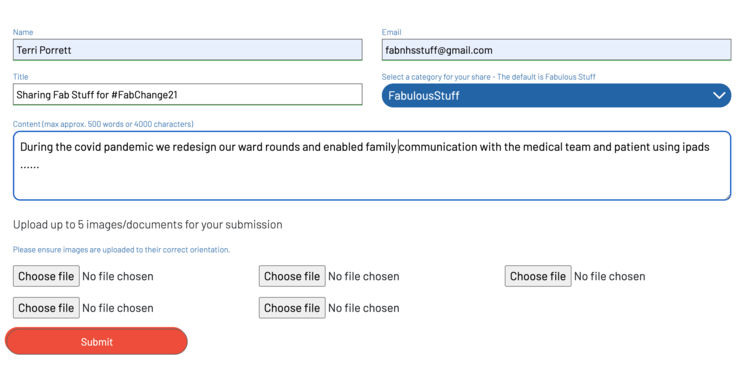 If you'd like to use a simple poster template to submit your work, we've drafted one to help you structure your story. You can find the template and download it HERE . It's designed to help others put your learning into practice. Try and complete every field if you can, but don't worry if you can't. When you have completed the template, please save it as a PDF and upload as a document to your submission.
If you have any questions or need any support sharing your work drop us an email here
Thank you for participating and we really do look forward to amplifying the impact of your work by sharing it on #FabChange21