"Making History: health visiting during COVID-19": spotlighting the vital "safety net" that health visitors have provided for babies and young children during the current pandemic.
This document is a window into the working lives of health visitors and families navigating the ups and downs of the COVID-19 pandemic.
It has taken a global public health pandemic to shine a spotlight on the importance of the health visiting service, providing a vital universal "safety net" for babies, young children and their families.
The work of health visitors is often hidden from sight which has made it an easy target for cuts during times of austerity. Over the last few years, the service has faced considerable challenges with year-on-year public health grant cuts and a depleted workforce.
In March the world "locked down" and health visiting services were partially stopped and adapted to a socially distanced way of working. Yet many aspects of the world did not stop – babies kept being born and the normal struggles of parenthood became amplified for many. Some families enjoyed the relative peace of an enforced slower pace of life; however, most families were negatively impacted by lockdown and home was not a safe place for some, and rates of domestic violence and abuse, mental health problems and safeguarding concerns quickly became a source of concern.
Health visiting skills needed more than ever
During the last few months, parents have reached out to health visitors for support as many other sources of support were no longer available. The breadth of skills that health visitors have as Specialist Community Public Health Nurses, supporting babies, young children and their families during the biggest public health emergency in living memory, have been needed more than ever.
The case studies, family stories and creative pieces contained within "Making History: Health visiting during COVID-19" capture the pace and scale of change and health visitors' leadership skills driving rapid service transformation. Health visitors have risen to this challenge with professionalism and autonomy, flexing and developing innovative service "workarounds" to ensure that families receive the best possible support. Different areas have responded in different ways, many introducing "virtual" contacts and group support instead of face-to-face contacts, as well as rapidly responding to urgent needs supporting families using Personal Protective Equipment.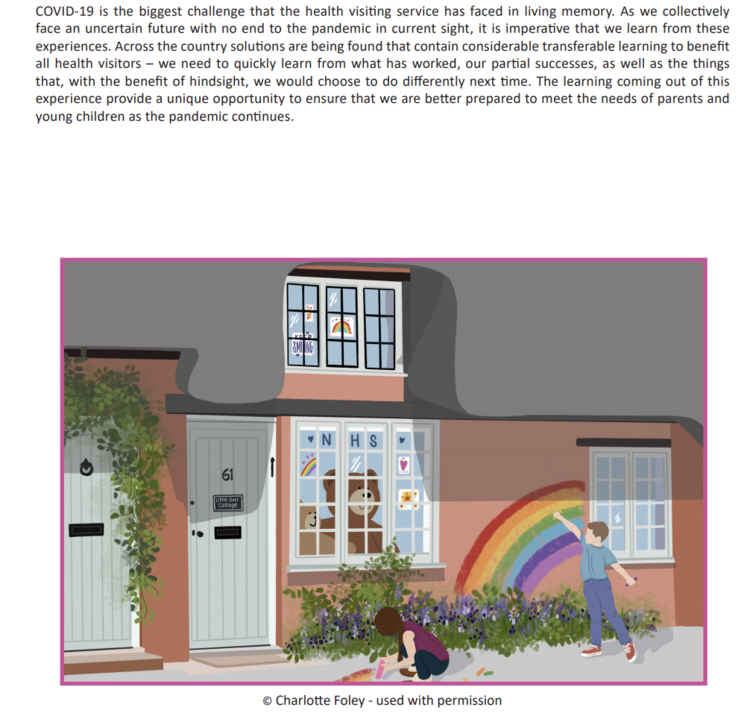 You can read the full report here HERE