#MagicMorecambeBay Make sure you're looking after your mental health during the latest national lockdown
The past nine months have been difficult and many people have struggled with poor mental health due to the changes that we have had to face.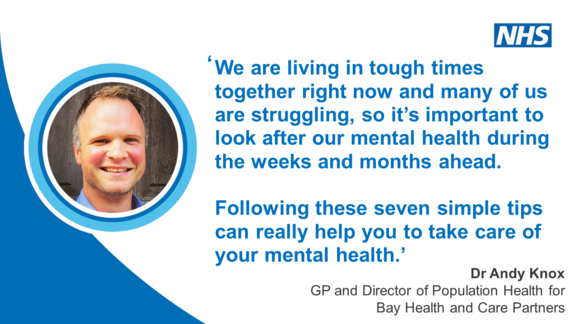 To help with maintaining good mental health during the latest national lockdown, Dr Andy Knox explains seven basic tips that, by following each day, you can use to improve your mental health.
The 7 tips are:
A – Ask for help
B – Breathe slowly (try box breathing)
C – Connect with your loved ones
D – Develop a daily routine
E – Eat well and exercise
F – Focus on today's activities
G – Be grateful
There is support available to help you with your mental health and wellbeing, including free access to online counselling and support services, support specifically for children and young people, information about mental health support and crisis lines and details of local and national mental health services.
Visit healthierlsc.co.uk/MentalHealthSupport for more information.