Have you heard of the #MatExp #LithotomyChallenge?
How did it start? #FabObs Florence Wilcock ensured that her roles as obstetrician and mother blurred a bit more (and took many of her colleagues by surprise) when she did something truly wonderful in terms of making people think, really think about the experience of the women they are caring for. She walked in their shoes, which on this occasion involved taking off her shoes........
I started to think about whether we use lithotomy more than we should and wondered what does it feel like? Although I have two daughters, they were both born by emergency Caesarean so I do not have personal experience of lithotomy although I know some of my midwifery and consultant colleagues already do. It seemed the perfect challenge. I chose to do try it for one hour as that is a quite realistic time that a woman might be in that position, sometimes it can be less, but sometimes it can be far longer. You can read Flo's full blog HERE
This insightful and engaging blog explores the experience and insights of a Consultant Obstetrician
If you search this hashtag on twitter you will find many more examples #lithotomychallenge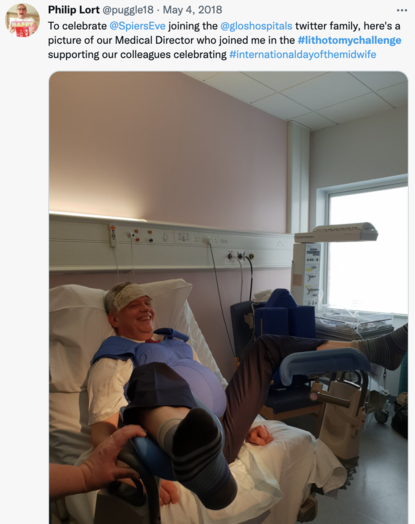 Make sure you have listened to #lithotomychallenge @TheObsPod https://buzzsprout.com/961453/5108854 which covers :
What does lithotomy mean, why is lithotomy position commonly used for birth in western countries & what can we do about this?