The last Fab Change Day is about creating a year of ACTION. The NHS and social care is full of passionate people who make a difference every day. In order to do be most effective and to help patients we need to change the way we do things, and to bring about change you need to be ready to break the rules!
That can be difficult, so what do you do?
Connect with like-minded people and learn the art of rocking the boat while staying in it by joining the
School for Change Agents
! It's a free, five week online course run by the Horizons team. Hundreds of people have already enrolled for the new term, which starts on Thursday 16th February.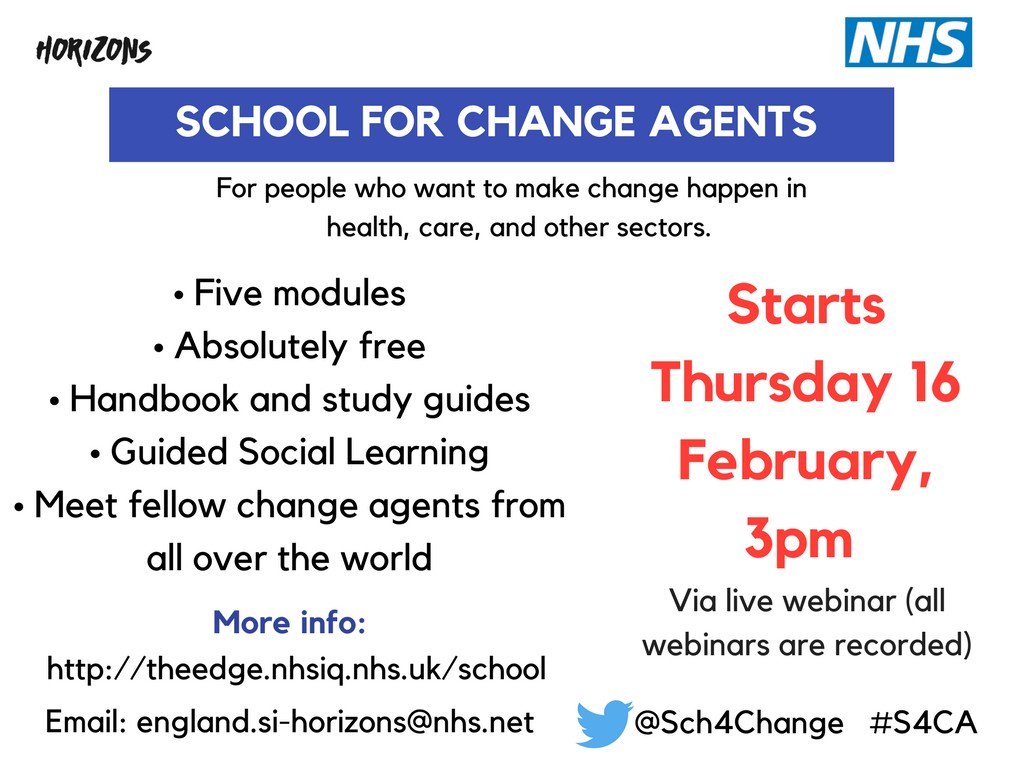 Now in its third year, the School, previously known as the School for Health and Care Radicals, has helped thousands of participants learn about effective change. It is not all about theory: the course shows how we can put our ideas in to action.
The live sessions of the
School for Change Agents
will run on Thursdays, 3pm to 4.30pm (GMT) on the following dates, with recordings available on the
Horizons website
for anyone who is not available at that time:
Thursday 16th Feb
Thursday 23rd Feb
Thursday 9th March
Thursday 16th March
Thursday 2nd March
The school curriculum has been externally evaluated by the Chartered Institute for Personal Development and has been shown to deliver significant impact for both individuals and their organisations in terms of:
Knowledge and skills in leading change
Building a sense of purpose and motivation to improve practice
Ability to challenge the status quo and rock the boat without falling out
Connecting with others to build support for change
We have applied for CPD points for doctors and other clinicians completing the school. We are also incorporating opportunities for nurses to use the school experience as part of their CPD reflective accounts for revalidation. In addition we will offer the opportunity for people to become a 'certificated change agent' by taking part in all the school sessions (either in real time or by watching the recordings) and undertaking follow up work to demonstrate that they have applied the principles.
To enrol for 2017, visit the School webpage here:
http://theedge.nhsiq.nhs.uk/school/
If you have any queries, please get in touch at
[email protected]
.  You can also tweet
@Sch4Change
and follow tweets with the tag
#S4CA
.
The 2017 term starts on Thursday 16th February, at 3pm (GMT). We understand that people are busy and not always able to be available at a particular time, so every live session is recorded and made available on our website for viewing later.
You don't have to work in health or social care to be involved. Many people from a wide range of sectors including change agents from the police service, education and community activists have taken part in previous years.