In 2012, health and care leaders across Greater Manchester (GM) identified the need to address the variation in care and outcomes for patients across GM. A formal programme of change, Healthier Together, resulted in the 12 GM clinical commission groups (CCGs) support by the GM Combined Authority (GMCA) proposing changes to some hospital services; urgent and emergency care, acute medicine and general surgery (abdomen and bowel).
The Bolton, Salford and Wigan partnership (BSWP) was established in the north-west sector of Greater Manchester following the Healthier Together review and is tasked with supporting NHS organisations to work in partnership to make sure that hospital services are the best they can be, so that patients receive the same high quality, safe and accessible care.
The Bolton, Salford and Wigan Partnership aims to ensure that residents have access to the best health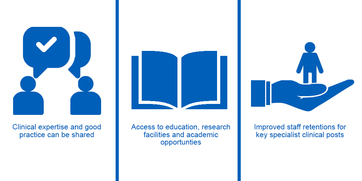 and care in the country. This will be achieved by increasing quality and safety standards and working together to develop 'single services'.
Already in Greater Manchester, major trauma and stroke services have been changed to work in this way and the evidence shows that consolidating services onto fewer hospital sites has saved lives and improved patient care.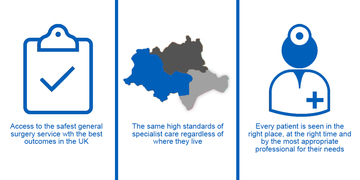 The biggest transformation will take place in general surgery where the Partnership will lead on the creation of a single service. This means that care will be provided by a single team of surgical staff working together across Bolton, Salford and Wigan to provide emergency and elective general surgery.
Salford Royal has been designated as a specialist 'hub site' where a consultant surgeon will be on duty 24/7 to provide timely care to high-risk patients. Low-risk surgery, ambulatory care and outpatient services will continue to be provided at Bolton, Salford and Wigan hospitals.
Design plans have been signed off for a new build Acute Receiving Centre (ARC). The building is expected to open at Salford Royal in February 22, dependent upon timing of the release of funds from HM Treasury.
Surgical ambulatory care units (SACU) will be a central part of the new sector wide single service for general surgery. Ambulatory care is provided by all three trusts and is a service offering same day emergency care to patients without the need to be admitted into a hospital bed overnight (wherever possible). This means that patients are assessed, diagnosed, start treatment and are able to go home the same day.
The majority of patients accessing general surgery will be treated in a SACU.
To understand the volume of patients affected by the transformation, the Partnership has carried out service modelling work based on 2017/18.
In total 17, 050 patients accessed general surgery services in the north-west sector. Under the new model: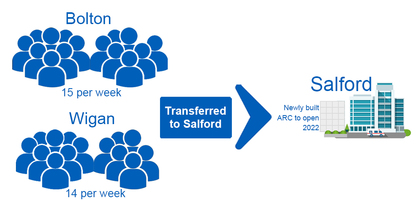 1524 (approximately 9%) would be transferred to the hub site at Salford Royal.
15526 (approximately 91%) are cases where the risk is lower that would be treated locally in hospital wards, outpatients and surgical ambulatory care units. Expert care in the right place at the right time will support improved outcomes for patients across the sector.
BSW Partnership - working towards being the best we can be.