For some Covid patients recovery is long & laborious.
Some covid patients still do not have their old condition back.
You hear a lot: Not in shape, quickly tired, forget more, pain, it makes me despondent.
Music can make a valuable contribution to a faster and better recovery, as studies show the following results:
- Music speeds up post stroke recovery!
- Rehabilitation after operation with music goes faster and better!
- Music boosts our immune system through production of antibodies!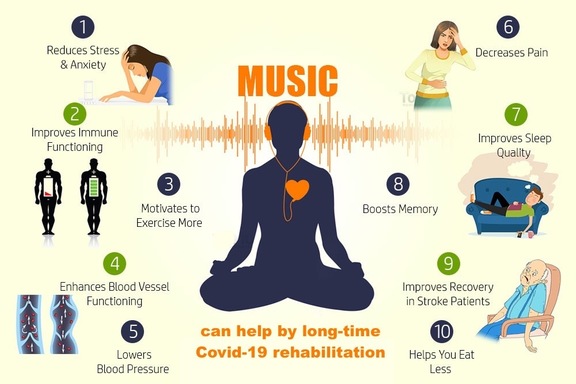 The most dangerous thing about long slow rehabilitation is loss of courage which can lead to a negative vicious cycle resulting in a depression. Here too music can make a contribution to a better and faster recovery of Covid as music:
- Boost relaxation.
- Reduces stress levels.
- Is a supercharges brainpower.
Positivity is perhaps the most important thing in long-term rehabilitation, without it you stop the exercises and lose confidence. Science proves: Music from our teenage period is uplifting, energize and makes us happy.
That's what we need: Because worrying, mooding, letting go of courage does not help the mental and physical health. Therefore advice long-convalescent covid patients to make use of the power of music.
Prescribe to make a:
- Waking up playlist: Starting with courage and energy!
- Showering playlist: Encourages singing in the shower and dispels negative thoughts.
- Exercise playlist: Supports motor movements and neuroplasticity, makes exercising fun, lesser pain.
- Happy playlist: Improves mood, courage, energy, makes HAPPY 😊
- Relaxing playlist: Supplies inner peace, confidence, mental support.
- Sleeping playlist: Prevents worrying, breaks circles of negative thoughts, sleep better.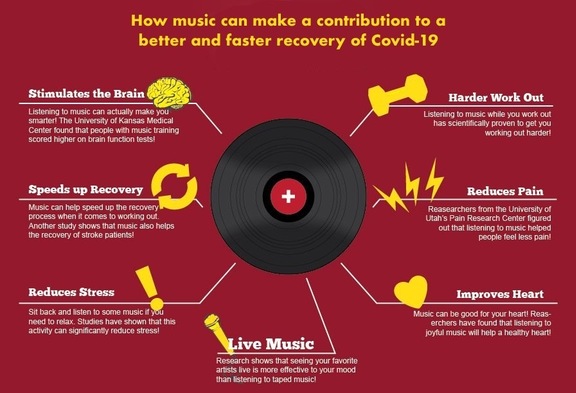 We still don't know exactly how or why music has such a profound impact on our physical and mental well-being. But mother nature in all her wisdom has given us music as valuable tool.
So let's use it wisely, side effects not known. Only that it reduces pain up to 21 % and improves memories.
An open research invitation for students: Investigate the effect of music on long-term rehabilitation after covid-19.
Super power has the music from our teenage years. This is the music we have heard between our 15 and 25 years.

Hearing these songs brings back the joy and the happiness of those teenage years. Creating a 15-25 list is a fun thing to do. It's a distraction of pain and sorrow, it's makes you feel good and the founded music contributes to your recovery.

Did you know when Florence Nightingale wrote her seminal guide to nursing, she cited the importance of music to the patient.

Success: Stay safe and healthy