When we first thought of building our first patient group team, we were filled with pride and admiration for all the participants who make up the Macmillan Next Steps team. This is a team made up of patients who have been diagnosed with either breast, prostate or colorectal cancer. This "Fitbit" group was created following a walk into work one morning with H8H. We discussed how we could provide ongoing support for the patients who have "Fitbit"s. This spark of an idea that became reality very quickly. To date we have recruited members following their therapy sessions and anyone that has a "Fitbit" who comes through the service gets offered the opportunity to join the group.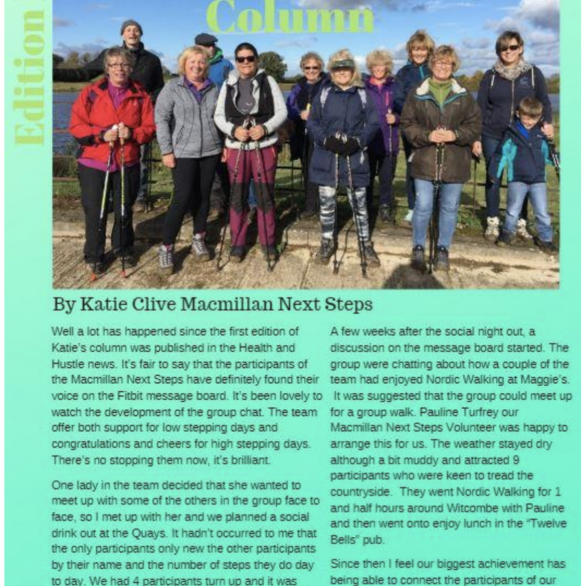 Team-Macmillans-Next-Steps.have now completed a number of challenges. As the number of participants have grown, the confidence has grown. During the summer challenges we noticed the peer support between the participants increased as they gained confidence to post motivational comments to each other on the message board. The team welcome new members and post comments to praise day to day stepping. We have also noticed the improvements in participant's steps increasing and for many of the participants we have noticed a determination to work as a team by encouraging each other.
During one of the challenges "Step the ads with Katie" was introduced. Katie would invite team members to stand up and step around the house during each advert break during programmes. This excluded BBC programme. This encouraged everyone to get involved as a team to bump up our score and encourage a little bit more movement! With instruction on the message board of when to "Go" and "Stop" gave the team members a chance to participate in between programmes. This was progressed through sports events where we set a "step the half time with Katie". It's amazing how much you can step in half time.
This is only the start of the Macmillan Next Steps "Fitbit" group and we hope it continues to grow as we see more patients. Katie recently met up with a couple of the participants who have really embraced the group, with one joining the #glosnhs1000mile challenge. One of the members commented:
"I never thought that I would make use of a "Fitbit" but being part of the Macmillan Next Steps team has brought out the competitive part of me and the encouragement from the team has been invaluable to making sure that I continue to 'move more'"
Another remarkable patient journey talks about surviving Bronchial Pneumonia and septicaemia and being put into a chemical coma. Whilst being treated as a permanent resident of the Intensive care unit at Gloucester Royal Hospital and later transferred to another ICU in London, Pierre managed to survive and then start the slow road to recovery.
Read his remarkable story and how using Fitbit has allowed him to get active and reconnect to life following his illness.