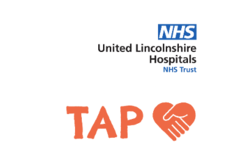 We know that when our patients say thank you to our staff that it boosts morale so much and it makes it even more valuable in these very difficult times. We all know that happy patients make happy staff.
So having heard about TAP (Thank and Praise) through the The Academy of Fabulous NHS Stuff, I decided to adopt TAP's free-to-use social thanking platform at the United Lincolnshire Hospitals NHS Trust where I've been the Patient Experience and Engagement Manager for the past 9 years.
My trust is one of the largest acute hospital trusts in England, with 7,800 staff serving a
community of 650,000 people across its four hospitals. As a result of setting up TAP within the trust which took just a couple of weeks at zero cost and with no technical set up, we're now able to quickly and easily receive personal messages of thanks for our staff via a bespoke Digital Thanking Wall:
So far we've received over 600 messages from members of the public for the trust teams and it is a great way for people to be able to thank everybody who works across our hospitals, not just individuals. In these unprecedented times, it makes a huge difference to staff morale to read all of the lovely comments about our amazing teams and the services they provide.
However, TAP is more than a digital thanking platform, it's run by a mission-led team who really care about those who work in healthcare and social care. This has been evident by the energy and positivity they have put into sharing the messages of thanks we've received. So far we've had appreciative messages shared on TAP's social media as well as in the healthcare press, regional press, BBC local radio and even on BBC TV.
It's certainly been an uplifting and humbling experience to read the messages of thanks from my trust's patients and I was honoured to be recently joined on BBC Look North by two former patients who had this to say about sharing messages on the TAP platform:
"It was a wonderful opportunity to be positive and to say I am more than a statistic, I am a human being, and I still really appreciate everything you did for me."
"It was lovely to be able to say, "thank you". Afterall it has given me another 15 years with my kids."
This poignantly demonstrates that it's never too late to say "thank you" to those involved with your healthcare whether it be a week ago, a year ago, or even longer.
With thanks to the BBC, you can see our coverage here:
Sharon Kidd, Patient Experience & Engagement Manager, United Lincolnshire Hospitals NHS Trust.