I am an occupational therapist and over my 20 years of practice, I have worked with many people who, for various reasons are struggling with life.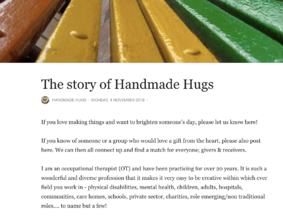 They might be lonely, isolated and in need of some positive human connection.
There are also many people who are creative and enjoy the act of making something. In occupational therapy, we know that carrying out an activity that has meaning and purpose to that person has huge beneficial effects.
Combining the love of someone creating something, with then gifting it to someone else in need, seems like a perfect match!
I've created a space where people can offer their handmade gifts to people in need. Also, people can post to make requests on behalf of others, who are struggling in life, to receive a small gift to boost their day.
You can find the facebook page here