ULHT's FAB Emergency Department are using a new set of resources to improve falls risk assessments within their department. This revised way of working has so far improved the departmental staff awareness of which patients are at risk of falling, and has facilitated timely and more robust falls prevention planning from the earliest opportunity.
The ED Matron in collaboration with 2 Quality Matron colleagues has created and implemented an Urgent & Emergency Care (U&EC) falls prevention risk assessment, which is to be completed for all patients entering the department.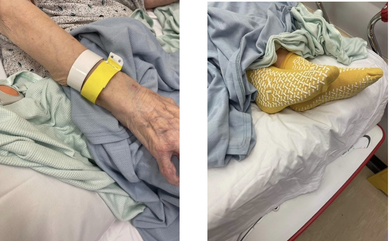 Those patients assessed to be at risk, are issued with yellow wristband and yellow non-slip socks to help them be easily identifiable, and patients bed / trolley spaces are identified with a yellow sign, to highlight to the staff that this patient is high risk, without breaching the patients privacy & dignity within the department.
These yellow resources are now being noticed and are utilised within the ward areas as these patients continue their journeys through our hospitals.