Breast screening was introduced in 1988, offering free mammograms to women over 50.
But it wasn't until 2006
that The NHS Bowel Cancer Screening Programme was introduced introduced and was the first cancer screening programme in England to include men as well as women.
Bowel cancer is the 4th most common cancer in the UK.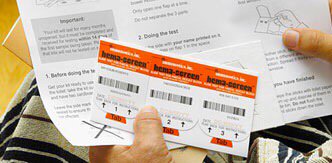 Faecal Occult blood testing (FOBt) is available to men and women 60-74 and is offered every 2 years
Bowel scope screening is a one off test being offered to 55 yr olds - currently being rolled out in England.
A
bowel symptom checker
 is available on NHSChoices
There are a
number of barriers
  to bowel cancer screening participation not least of which is the perceived embarrassment and stigma attached to 'Bowel' issues.
Lead by example, if you receive a FOB test - don't bin it, do it - it could save your life and that's a fact