Excellence Reporting was launched at City Hospitals Sunderland in February 2017 and at South Tyneside in October 2017.
This is a mechanism whereby any staff member can recognise a colleague, team or department who they think has done something exceptional at work.
This could be someone going the extra mile, providing great compassionate care or exemplified superb teamwork.
Staff that are nominated through the excellence reporting system receive a personally signed letter from the CEO, which can be used within appraisal and revalidation portfolios. It also supports the Trust to learn from good practice and share these examples in other areas. Importantly, Excellence Reporting supports improving staff morale and improves their resilience.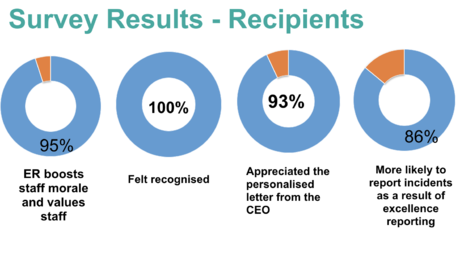 With over 1,000 reports received to date, this continues to grow and staff report that they feel appreciated and valued when they receive a letter.
You can read more about the initiative , results and spread plan in the resources below
Learning-from-Excellence-PS-Awards-2018.