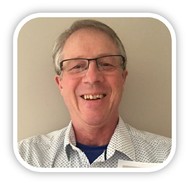 19th October 2021. 1pm—2pm

Dr Gordon Caldwell
Consultant Physician and Clinical Lead
Lorn & Islands District General Hospital
Dr Gordon Caldwell is Consultant Physician and Clinical Lead at Lorn and Islands District General Hospital, part of NHS Highlands.
Gordon previously worked at Worthing Hospital, part of Western Sussex Hospitals, now University Hospitals Sussex.
Gordon is well known for many of his innovative approaches to improving patient care and patient experience, and has written many papers and essays on the subject of removing waste in healthcare process and thinking differently when it comes to how we work.
As strong advocate for challenging thinking around the delivery of ward rounds, Gordon has recently joined the joint Emergency Care Improvement Support Team and Royal College of Physicians Modern Ward Round Collaborative, as a member of the clinical reference group.
Join us for what will be a fascinating canter through Gordon's 48 year clinical career with reflections and thoughts for the future.
Click here to join via MS Teams
For more in the series, go to https://youtube.com/playlist?l...