Well, the news is that the Transformation Team are officially #DuckPositive! I'm aware that outside a very small circle, that might not mean very much right now, so I'll explain.
I love my job, and I'm lucky enough to work with a really positive, collaborative group of people, but sometimes I find the energy and noise of a busy open-plan office difficult to handle. It's nobody's fault - we're a creative, social bunch, and for the most part, that makes work an absolute joy.
I'm sure most people can relate to the problem I'm talking about - when you just need some peace and quiet to focus, without the usual distractions disturbing your focus. Hearing voices makes it that much more difficult to get in the zone with a task or project, and it can make it that much more distressing at times to deal with the additional stimulus of the office.
Like I say, I'm lucky to have a great team to support me with all the challenges my mental health can present, and I also work hard to overcome the feelings of being overwhelmed by outside stimuli. But I'm not the only one who sometimes needs a period of quiet to get on with work undistracted.
In light of Stress Awareness Month, my team are embracing an initiative I've put forward to help us support each other when this happens. The idea came from suggesting that I put a rubber duck on top of my monitor when things get a bit too much, so that those around me know I need a little more consideration when it comes to noise levels and interruptions.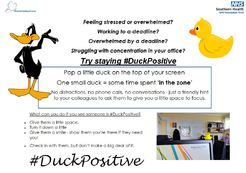 However, when I made the suggestion, I found that there were others who liked the idea and thought it could be helpful throughout the office. After all, feeling overwhelmed, distracted, and sensitive to noise isn't exclusive to those who hear voices or struggle with mental health. We could all use a less stressful work environment at times.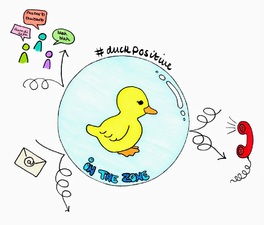 As a result of our discussion, we as an office have decided to become #DuckPositive! We'll have our own rubber ducks to use in times of need. We know that when we see a duck on someone's monitor, we can support that person by being a little quieter, keeping interruptions minimal, and just checking in to make sure they're okay.
I know that I hate the feeling of being singled out or treated differently, so it's amazing to have the whole team adopt an idea that supports everyone like this. It's reassuring to know that I'm not the only one to benefit from duck positivity! You don't always know what others are going through, and it's good to have a tool in place so that we can give each other subtle gestures that indicate we might need support.
For more information on the official #DuckPositive read more in my blog
You can contact Nathan here https://twitter.com/NathanClif...