"Dayroom to Doorstep" is a great example of a change of ward culture, being brave trying new ways of working and demonstrating true MDT collaboration for the benefit of our patients. The initiative and concept was designed by the Ward Manager on Combe Ward at the Royal United Hospital in Bath but the day to day running of this initiative is therapy led through empowerment and encouragement from the wider team and ward manager. Combe Ward is an acute medical elderly care ward which was redesigned in 2013 to be Dementia friendly. The ward has a large dayroom.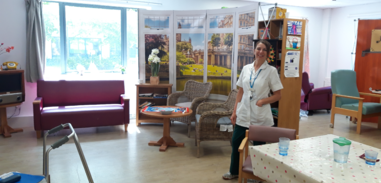 Patients are encouraged and supported to get up, dressed and moving and they then spend a good part of their day in the dayroom enjoying lunch club and a variety of activities. Here they are supported and supervised by the ward therapist who facilitates reablement through a variety of activity. There is a timetable of activities which take place and patients are free to come and go as they please. Often there are at least six to eight patients on a daily basis who are mobilised into the dayroom.
This initiative wholeheartedly supports the nationwide End PJ Paralysis concept. There is a therapy kitchen adjoining the dayroom where patients are given the opportunity to use the facilities as they would at home. This acts as a stepping stone to their care at home such as being discharged with Home First or with a package of care. Furthermore, the dayroom is used to care for those patients being discharged and waiting for transport home. This not only makes their discharge experience more comfortable than waiting by their bed, it also enables the bed to be released earlier in the day to a new admission to the ward. This has improved patient flow.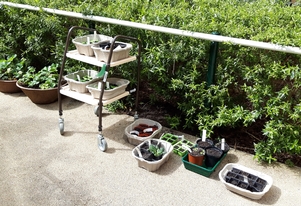 Staff report improved morale from the MDT working: Consultants, nurses, therapists, volunteers and housekeepers are all engaged with the initiative . Patients have been found to have improved nutrition, hydration and socialisation. Boredom is reduced which assists with emotional and psychological recovery.
The initiative has enabled staff to witness fantastic experiences for our patients; when there are several patients enjoying an activity together or enjoying a meal , this is so brilliant and heart warming to see.
The concept has been supported by senior management and is being rolled out to other ward areas in the trust.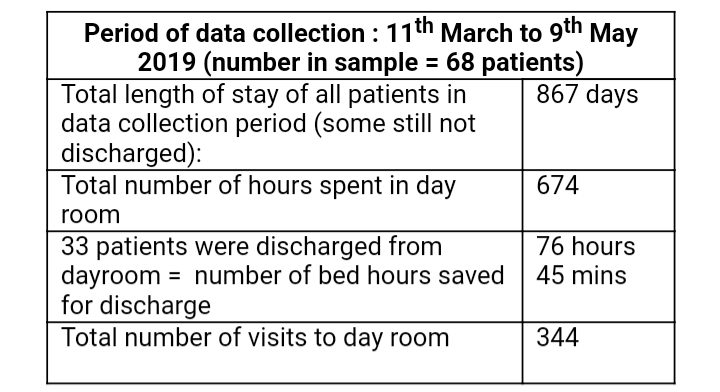 For further information please contact [email protected]