The greatest underused asset in the lives of children and young people is fathers. Communities and child-related services and organisations tend to focus – and put most pressure – on mothers. Some largely ignore fathers.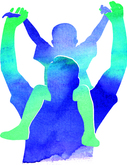 An ideal transformed approach would think at least as much about the role of dads within families and communities as about fathers within services.
In each of three neighbourhoods in Salford and Rochdale , Dadly Does It focussed on 'what's strong, not what's wrong', and drew on the strengths, assets and hidden wisdom of communities. It used a 'positive deviance' approach. Building on the learning from Little Hulton (Salford), Dadly Does It then ran in two other neighbourhoods, Winton (Salford) and Langley (Rochdale borough).
The learning strongly suggests that improving the well-being of fathers from disadvantaged backgrounds can improve the well-being of their children. It also appears to have the potential to improve the quality of family relationships and to provide benefits to the well-being of partners and ex-partners.
A quality-assured social return on investment study concluded: in the professional judgement of the analyst, the social value created by the project is in the range of £1:£14 and £1:£20
More details at https://www.unlimitedpotential.org.uk/enterprise/innovation-projects/dadly-does-it