At #UltimateULHT we have really strong swan scheme initiatives with children's comfort bags, swan bags and ring purses, swan wedding box and swan care bag.
We wondered what else we could do so we formed a small group called Operation Handprint which consisted of Marie Beck, Oncology Advanced Care Practitioner; Pamela Beattie, Chaplain and Sharon Kidd, Patient Experience Manager. Pamela had recently helped the family by obtaining a baby handprint impressions kit from our maternity teams to make a handprint sheet of Dad's hand before he died.
So from Operation Handprint, we now have the Treasured Moments Project, launching in early 2020 which has been designed to help families and loved ones of patients at United Lincolnshire Hospitals Trust to come to terms with planned, sudden or unexpected death. In the pack is: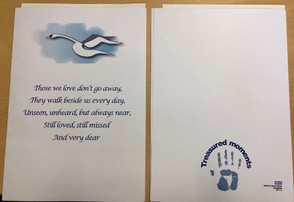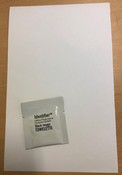 • Inkless coated paper
• Inkless towelette
• Instruction sheet
Making the handprints is a way for families to become re-involved in the care of their loved one in the final hours. People are often intimidated by all the tubes and equipment and afraid to touch their loved one. Taking the handprints brings everything back to a very human, deeply personal level.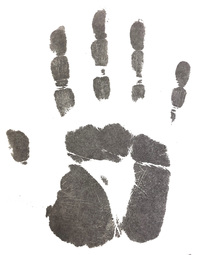 Once it becomes obvious that someone is dying, this is an activity that can help families become involved again. This gives them a way to physically connect and feel useful. Soon they are holding the patient's hand, brushing his or her hair, or patting the patient's face with a damp cloth. Often they start talking about their loved one and the role they played in their lives.
End of life care and preparation for a patient's death happen within a short time frame with limited opportunity to prepare for the loss of a loved one. Consequently, patients and their families rarely get the time and opportunity to create final treasured moments.
The handprint is presented to the family in a special card with the name of the patient and the date taken. The initiative is supported through donations to the ULH Charitable Funds.
Sharon Kidd, Patient Experience Manager