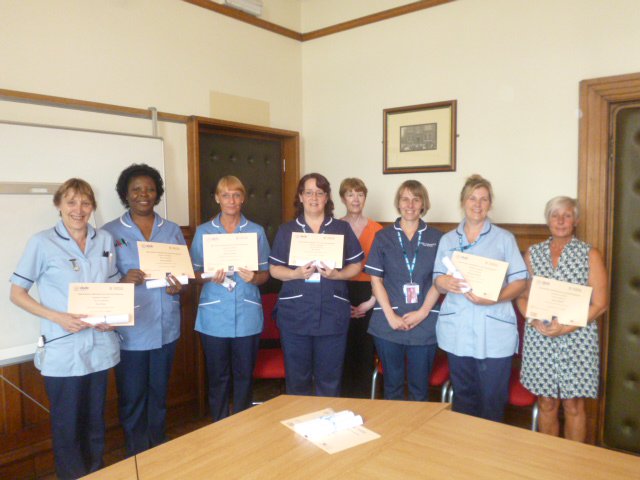 More than 100 Dementia Friends have been signed up through a Lincolnshire hospital and one member of staff is hoping to sign up another 100.
Donna Phillips, Clinical Nurse Educator at Lincolnshire Community Health Services NHS Trust, is based at John Coupland Hospital and has been running sessions to help make people think about what it's like to live with dementia.
Dementia Friends training is just one of many ways staff at the trust are supporting patients and their families living with dementia. Trust staff have also attended the Best Practice in Dementia Care Course accredited by The Sterling University. This six month self-study course also involves face to face sessions led by a facilitator every two weeks. Currently 12 staff from the Scotter Ward at John Coupland Hospital have successfully completed the course with hopes of more joining them. "After attending Dementia Champion training in February last year I went on to become a Dementia Champion myself. I have been delivering sessions for the last 11 months," said Donna. "These sessions are for everyone really from students to volunteers, domestics, porters, managers, doctors and nurses. It's all about helping staff to understand what small things they can do in whatever job role they have."
The one hour sessions are designed to make people think about the small ways to help a person who has dementia, even something as minor as making a cup of tea to crossing the road safely. Alzheimer's Society reached its one million Dementia Friends target in February 2015 and is now aiming to create a further 3 million by 2020, to help make England more dementia friendly and improve the lives of the 720,000 people currently living with the condition. Research by Alzheimer's Society shows that 850,000 people in the UK have a form of dementia, 62 per cent of those have Alzheimer's disease. In less than ten years a million people will be living with dementia which will soar to 2 million people by 2051. Donna said: "We are looking after more and more patients with dementia as a secondary condition which is why I've raised my target from 100 Dementia friends to 200. Our aim is to improve the care of our patients. I am so proud of the Combined Outpatient and Surgical Team which has a 100 per cent of the department as Dementia Friends. She added: "Through this training staff now have more awareness and are looking behind the issue and the problem."
To help with this staff at the Scotter Ward at John Coupland Hospital, Gainsborough are working with an All About Me booklet which is filled in by family members with the patient's likes and dislikes and information about their family and life which helps staff to get to know the patient. "We are implementing these small changes such as the All About Me booklets and the Butterfly Scheme which is where we pop a butterfly symbol on notes and charts so all staff are aware that this patient either has dementia or cognitive memory problems," she added.
Rebecca Hill, Dementia Friends regional Support Officer at Alzheimer's Society said: "Dementia Friends is the perfect opportunity to be able to invite everyone up and down the country to improve their knowledge. Dementia Friends isn't about creating experts, it's about helping people understand a little bit more about what it's like to live with the condition and then turn that understanding into action - anyone of any age can be a Dementia Friend".
To find out more information about LCHS visit our website:
https://lincolnshirecommunityhealthservices.wordpress.com/