From early childhood, Carol Brearley, of Morecambe, had a dream to be a nurse just like her role model – her mum Ruth Rattigan. Ruth trained in Woolwich during the Second World War and worked all over the country as a nurse over a 40 year period. She finished working as a night sister in Halifax.
Carol, who has been a Macmillan Breast Care Specialist Nurse for University Hospitals of Morecambe Bay NHS Foundation Trust (UHMBT) at the Royal Lancaster Infirmary for 19 years, commends her mum's enthusiasm for nursing and her broad range of nursing knowledge.
Carol, who was brought up in Halifax, said: "I had always wanted to be a nurse from being a little girl. My mother was a nurse and she trained before the NHS came into existence.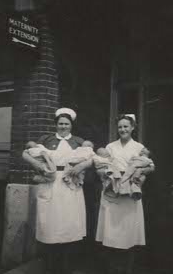 "My mum seemed to know so much about nursing and medical conditions and treatments. As a little girl, I used to love to go to meet her from work and wait while she changed out of the nurse's uniform. She was very proud when I got into Leeds General Infirmary to do my nurse training and she said that it was like old times when she came to see me in the nurses' home."
Ruth who celebrated her 96th birthday in May gave Carol some words of encouragement to help her through the coronavirus (COVID-19) pandemic.
"Mum trained in London during the war which was a very difficult period. There were planes going overhead, bombs going off and patients screaming with fear – there were only two student nurses, one of who was mum, to comfort all these patients," Carol said.
"I said to mum 'what did you do? Were you not frightened?' and she said 'We just had to swallow our fear for the sake of our patients'. Those words have inspired me through this difficult period."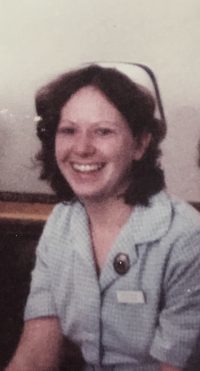 Carol started her training on 2 August 1975 at Leeds General Infirmary. She had posts in Leeds, Pendle and Grampian before she moved to Lancashire in 2001 and took up her senior nursing post in cancer care.
Her current role involves offering support, information and advice to people diagnosed with breast cancer. She will often meet patients pre-diagnosis when they are having tests, disclose their results to them and support them through treatment.
Carol added: "The post has evolved over the years and no two days are alike. I love the patient involvement and I have some lovely work colleagues too. I really enjoy being part of the breast care team. There have been many people I have met during my time here at UHMBT and have learned so much from the breast surgeons, oncologists, my breast cancer nurse colleagues, breast radiologists and radiographers, pathologists and the administrative staff.
"During the pandemic, we've had to be very flexible in the way we work. We have seen far fewer people face-to-face and had more telephone contacts with people but these have been really valuable and patients have been so grateful for those calls especially those who have been self-isolating. We have also had to be very careful in our approach to treating patients and have worked with a multi-disciplinary team to decide which patients are appropriate for surgery. Where appropriate we have started patients on hormone therapy tablets as an alternative approach as chemotherapy treatment compromises the immune system - it's amazing that even in two months how quickly the cancers can respond to the hormone therapy.
"I'm very thankful that I have had a long career in nursing in the NHS and I am very proud to have been part of the NHS.
"I think the NHS is a great career choice for people of all ages. Through the pandemic, it has highlighted how much people do appreciate the NHS and I think it's really important that this isn't forgotten post-pandemic."
The NHS celebrates its 72nd birthday on Sunday 5 July. To mark this huge milestone, UHMBT is showcasing stories from staff across the Trust to celebrate how inclusive and diverse the NHS is as an organisation.