Since our last post on FAB NHS Stuff in September 2018 our little charity has come a long way!
Our work at The Princess Alexandra Hospital NHS Trust, in Harlow, continues to make a massive impact on patients, families and staff. The team of 32 Butterfly Volunteers, expertly led by their dedicated Coordinator, Nicki Harris (pictured with members of the team) have supported approximately 700 patients in the last days of life - sitting with them for an incredible 950 hours! The message that comes back from the volunteers over and over again is that patients and their loved ones are so grateful to be offered support, company and a hand to hold at this difficult time.
We are excited to be working in partnership with three more NHS Trusts - including:
The Norfolk & Norwich University Hospitals NHS Foundation Trust - Coordinator Emma Taylor
East Suffolk & North Essex Foundation Trust - at both the Ipswich Hospital - Coordinator Dawn Jordan
& Colchester Hospital - Coordinator Emi Boboe
The James Paget University Hospital, Great Yarmouth - Coordinator John Gilligan
For contact information for Coordinators, and ART Ambassadors - visit our website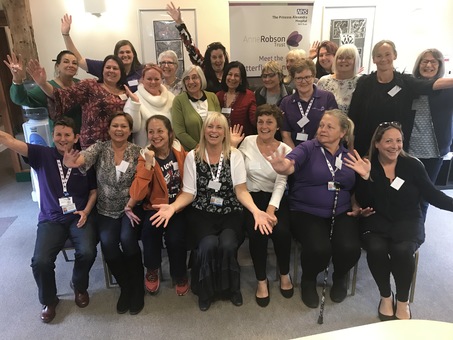 We will be announcing our next two Hospital partnerships in the Autumn, with work beginning in late 2019/early 2020, and already have a list of over 20 more organisations who have expressed an interest to work with us.
So - by the end of this year there will be at least 5 teams of Butterfly Volunteers supporting patients in the last days and hours of their life - and maybe more! We are working on plans to provide enhanced training to selected members of each team to expand the service to more areas of the hospitals - with particular emphasis on supporting bereaved families.
We are often asked how we find volunteers to do this role - the answer is simple really - they find us! Sadly, most people have some experience of losing a loved one, and they feel passionate about helping others, we just provide the platform and structure for them to do it. The key is to provide really good training to the successful candidates, and then support them properly so they can support dying patients.
We are keen to engage with any many NHS Trusts as we can over the next few years - so that as many people as possible can access this important service. We are currently working predominantly in the South East, but hope to expand to other areas as soon as we can.
Our model is flexible, our Coordinator and Butterfly Volunteer training is rigorous, and our approach innovative. Why reinvent the wheel?
If you agree that 'No One Should Die Alone' - and would be interested in hearing more about joining us in our mission - please do get in touch.