A support group has launched in Kendal to give people living with long-term respiratory conditions better access to advice and support from health care professionals.
Breathe Easy Kendal is free and open to anyone who is living with a respiratory condition such as asthma, Chronic Obstructive Pulmonary Disease, bronchiectasis and Interstitial Lung Disease.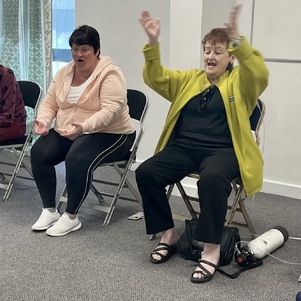 People aged 18 and over can attend the sessions on the third Thursday of every month between 1pm and 3pm at Kendal Leisure Centre, Burton Road, Kendal, LA97HX.
Breathe Easy Kendal is an Integrated Care Community (ICC) initiative supported by volunteers and is affiliated with Morecambe Bay Respiratory Network and Asthma and Lung UK.
Karen Donaldson, Respiratory Advanced Clinical Practitioner for University Hospitals of Morecambe Bay NHS Foundation Trust, said: "It is fantastic to be able to offer a peer support group in Kendal for people living with long-term respiratory conditions.
"Sessions offer a guest speaker, a wellbeing activity and the chance to speak to the community respiratory team. We're always looking for suggestions from our attendees as this helps to shape the support that they need."
Dr Pat Haslam, founder and Clinical Lead of Morecambe Bay Respiratory Network, said: "It is a really positive step forward that the Integrated Breathe Easy groups have launched across the Bay. They are a fundamental part of improving the quality of life of our patients with respiratory disease. There is evidence to show that patients who attend these groups have improved quality of life, reduced admissions to hospital and improved knowledge of how to self-manage their condition."
If you have any queries about Breathe Easy Kendal please contact Cara Stride, Kendal ICC Development Lead at [email protected] or 01539 777 337.
You can find out more at the Morecambe Bay Respiratory Network website here www.baybreathing.com.