There is growing body of evidence for incorporation cancer Prehabilitation into treatment pathways.
Traditionally, prehabilitation is delivered face-to-face (F2F) in a hospital and provided a vital checkpoint to optimise patients' functional status.
However, the COVID-19 pandemic has limited F2F consultations, delayed cancer treatment in some patents and additional shielding recommendations have limited patients' physical activities. Although it was essential to restrict the susceptibility of catching COVID-19 to those most vulnerable to severe complications, it is also imperative to continue our efforts that help prevent cancer-related morbidity and mortality, particularly during a period of prolonged isolation which has the potential to limit engagement in physical activity and healthy eating habits, whilst also adversely affecting mental health.
The outcomes of cancer treatment can be positively impacted by careful patient optimisation through supervised exercise, nutritional guidance and anxiety management strategies.
We aim to use technology to adapt the Prehabilitation programme, move the service upstream in the patient care pathway in collaboration with Public and Community Health and in the process "de-medicalise" healthy living habits while removing the restriction of post code letter for health optimisation of patients.
The move and growth of service allows us to incorporate service like smoking cessation, alcohol moderation, well being navigation and rehabilitation o empower patients to bring about a positive and sustainable change at a most challenging time in their life.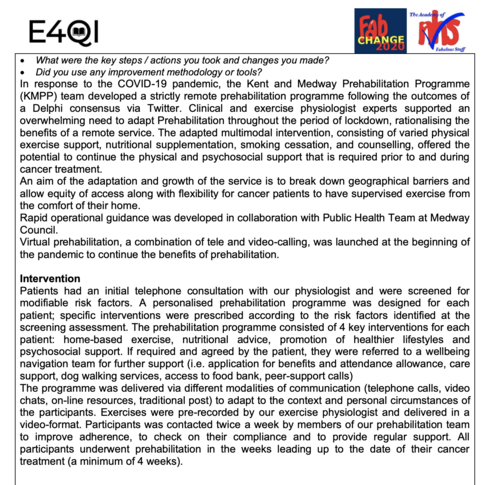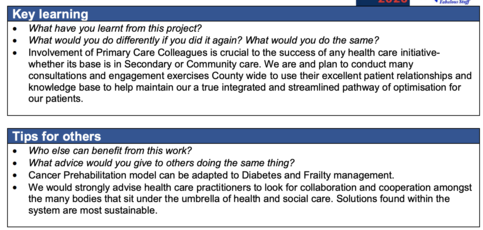 You can read about the full project HERE
Please visit us www.kentandmedwayprehab.org or follow us on twitter @TaraRampal and @KM_Prehab.