Inhalers are frequently portrayed in the media incorrectly leading to misconceptions about their use. We know lung diseases are responsible for more than 700,000 hospital admissions in the UK each year. One in five people have a respiratory disease and half of these people manage their condition with inhalers.
We have convened a large group of expert respiratory heath care professionals from across the UK who have united to address their concerns about the way asthma inhalers are portrayed in the media. We have observed that most images used by the media depict incorrect use of inhalers, therefore continually re-enforcing the wrong messages to people with asthma who rely on these vital treatments.
The #RightInhalerImage Campaign aims to improve the quality of media portrayal of inhalers which we believe would improve information for patients, health care professionals and the public about the use of inhalers. To achieve this, we are starting a social movement for change and campaigning to ensure images represent inhalers being used correctly and would love you to join us.
Images
Positive images of children, young people and adults using inhalers correctly will go a long way to help improve the care and outcomes for our population.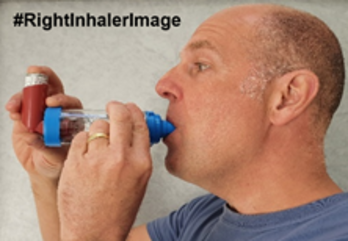 People with asthma usually need two different inhalers: a preventer (brown, pink, red, orange etc.) and a reliever (generally blue). The preventer inhaler is often forgotten about but is one of the most important parts of asthma treatment. A pMDI also known as a "puffer", is the most common inhaler device used in the UK.
There are lots of different coloured devices, and the colour indicates the type of medicine inside the inhaler. If images depicting preventer inhalers are used rather than blue inhalers this demonstrates good asthma management and might help contribute to a reduction in global warming.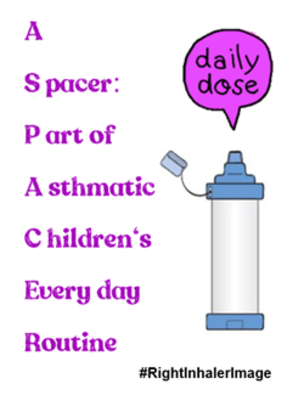 Over promotion of reliever (blue) inhalers reinforces a perception that this is the most important inhaler. However, from the National Review of Asthma Deaths in 2014 we have evidence that overuse and reliance on blue inhalers was frequently a causal factor in mortality.
Images portraying incorrect inhaler use may contribute to the adoption of poor inhaler technique and counteract medical advice.
We want media images to portray the best guidance for people with asthma and you can help us by supporting our campaign.
You can find out more about the #rightinhalerimage campaign here on their website