In response to the Covid-19 pandemic the Anne Robson Trust have set up a Helpline to provide support and a listening ear to anyone nearing the end of their life, their carers, family, friends or colleagues. We also provide support for NHS and care home staff who care for people who are dying.
Lines are open from 12 noon to 6pm every week day (inc Bank Holidays), and calls are free and confidential.
If you or someone you love is dying - we are here for you. Call us on 0808 801 0688
About Us:
The Anne Robson Trust's vision is that no-one should die alone.
Everyone should have the comfort and companionship of another human being as they die, and the support to prepare for the end of life: whether their own or that of someone dear.
We partner with NHS Trusts to help them quickly and efficiently embed 'End of Life' Volunteers into hospitals, providing companionship to patients in the last days of life and supporting their families. This service is currently offered completely free of charge.
We currently work with six hospitals in Essex, Suffolk, Norfolk and Birmingham, and have recently agreed terms with six additional NHS Trusts across the country from London to Salford, Rotherham to Maidstone. Over the past two years, 3,071 patients and their families have been supported with 8,427 visits from these amazing volunteers.
During lockdown, volunteers were unable to enter hospitals. Although our partnership activities were restricted, we used this time to review and enhance the service we offer.
This led to the launch of our national Helpline in March 2021, the only service of its kind in the UK, which provides pre-bereavement, non-clinical, emotional support to terminally ill people and anyone who is supporting a dying loved one. The Helpline is run by a member of our team, and manned by volunteers, many of whom were supporting patients at bedsides before the pandemic. By the end of the year, we expect to have supported 180 callers, with this number increasing rapidly in 2022.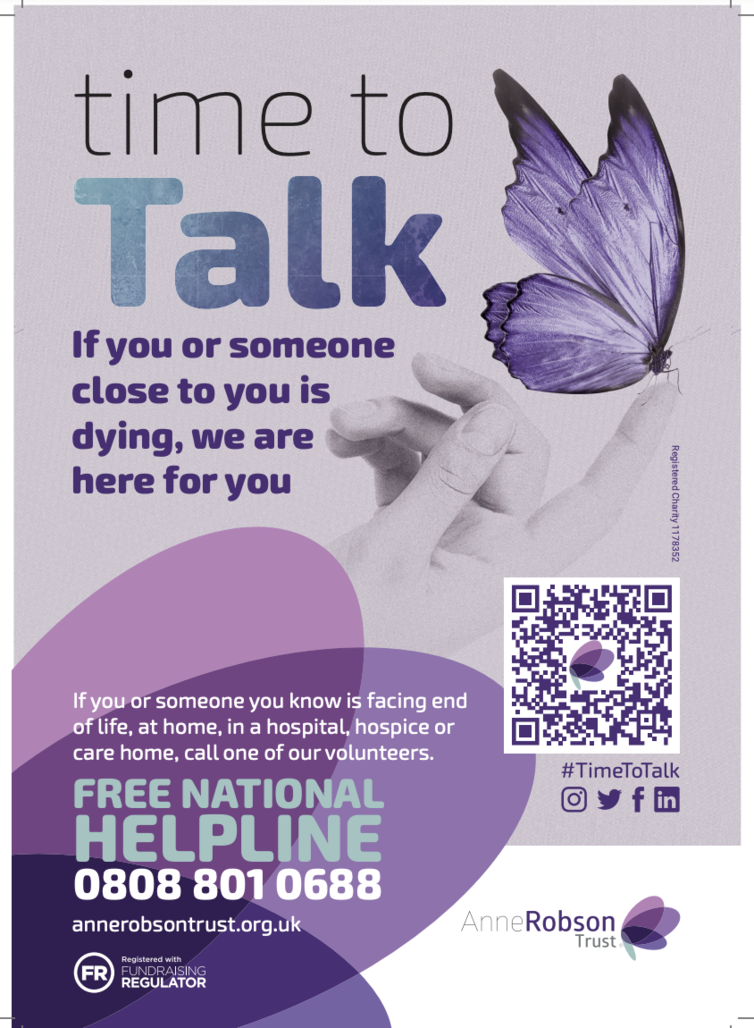 Volunteers are have returned to hospitals and been given a warm welcome. We know our work makes a difference as we consistently receive positive feedback from patients, family members and NHS staff, such as this:
"Managing bereavement and end of life care remains a huge challenge for the NHS. Without the help of the voluntary sector it would be impossible. The Anne Robson Trust is in the vanguard of this work, with their unique approach, training and understanding. I'm full of admiration for what they achieve."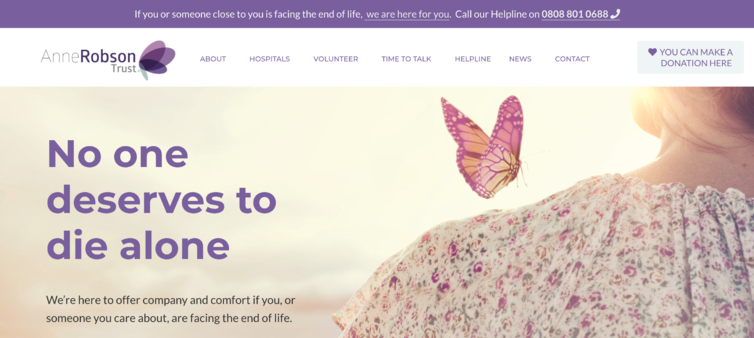 For more information visit our website at www.annerobsontrust.org.uk or email [email protected]
You can download the poster HERE