In August 2020 we shone the spotlight on our Admin and Clerical teams, promoting our very first Appreciation Week! This project was developed directly from feedback from staff in a variety of forums such as National Staff Survey, pulse checks and other project like the ULHT Bus Station (see other Fab entries).
The week focused on development opportunities, saying thank you and acknowledged the huge range of work experience, we have in our ULHT family.
Whilst we feel that every staff group is important, we also recognise the need to shine a specific spotlight from time to time. Especially in recent months, many of our teams have stepped up and have faced incredible challenges never seen before in the NHS. Our communities have been so kind in thanking us and showing their support and appreciation.
We wanted to showcase colleagues in different staff groups and celebrate that they are as important as any other. Our amazing clinical teams are enabled and supported by our resilient admin and clerical teams. They ensure notes appear out of nowhere, the paper replenished in the copier, a recruitment ad posted, payroll details updated, your ICT issue sorted. We encouraged our managers to take the time to say thank you. Asked them to check in with their teams. See how they are getting on. Especially if they were working from home, returning from shielding or redeployment.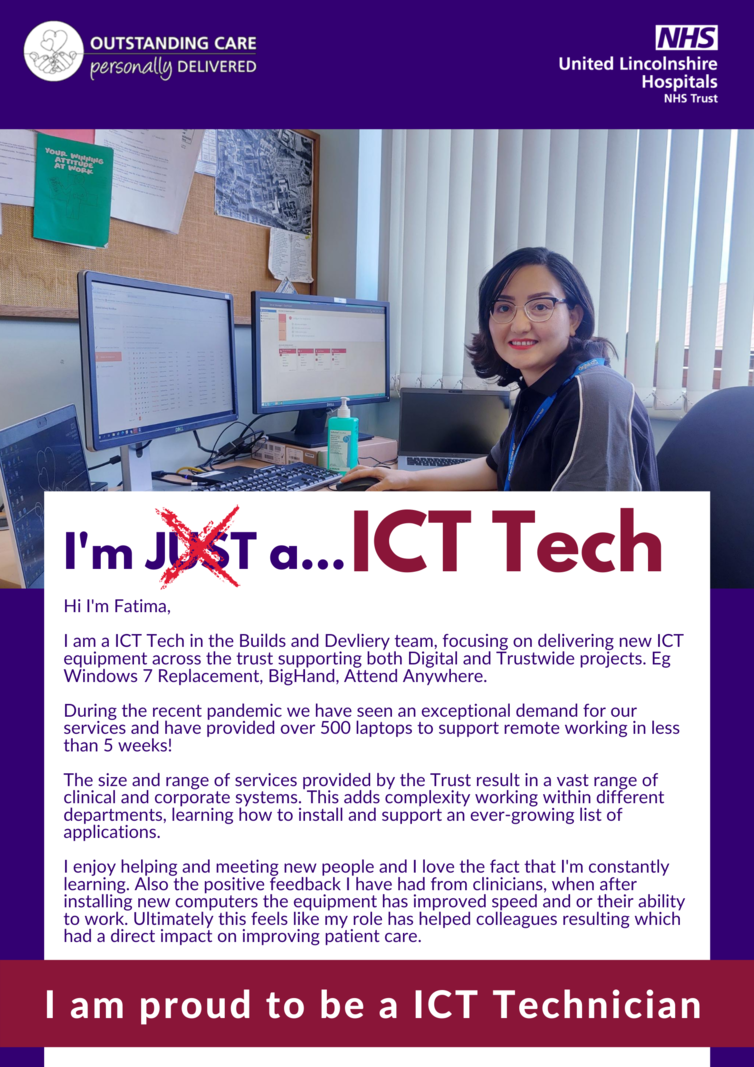 The project highlights are:
1. Case studies from various admin and clerical disciplines and bands, showcasing the range of colleagues we have in ULHT using the 'I'm Just a...' social media campaign, challenging the less entitled pride ideology.
2. Arranged for 7 themed development lives on MS Teams from teams with projects, services or information that were relevant to this work group. They were: Recognition, Leadership, Appraisals, Wellbeing, Talent Academy, ICT, Patient Experience.
3. Share quotes and encouraged self generating content on social media using the hashtag #WeAppreciateOurAdmin #NHSAdminTeam #TeamULHT #WeAreLincsNHS
4. Promoted our Example of Excellence project and encouraged colleagues to send them to an admin colleague (peer recognition)
5. Consider nominating colleagues for the internal ULHT Staff Awards
6. Reminding Managers the power of a 'Thank You' and a 'Well Done'
7. Arranged for our Executive Team to visit Admin specific teams to say hello and thank you.
The feedback was encouraging and we are exploring a similar format to recognise the work of our Estates and Facilities colleagues later in 2020.