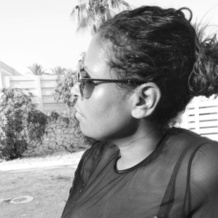 Karla Parker is an Improvement Manager with the Emergency Care Improvement Support Team within NHSE/I. In her recent blog, Karla creates a powerful image of of her own experiences and eloquently frames how easily racism exists in society.
To be comfortable in your own skin, happy in your life and successful in what you do, is that enough?
When you come from an imperfect but loving home, learn about and discuss your parents journey to England so long ago, no matter how tough, with no real understanding of how they were treated, were made to feel and the tolerance shown; their unyielding desire to raise grounded, decent human beings, yet with a future unknown.
You see growing up in Camberwell Green in South East London brings an eclectic mix like no other, where difference in faith, first language and race really was no bother.
Until one day you read a book and the hairs on the back of your neck sit high, as you recollect experiences that you perhaps you'd pushed to the very back of your mind.
The time when as a teenager you interviewed at Harrods and the secretary whispers to the interviewer 'by the way she's coloured', or perhaps the matches you captained your beloved Haringey team and despite winning left the pitch to monkey chants uttered.
Maybe it was after you sent a picture to your Texan pen pal at age 9 and she never wrote back and your parents saying "they must have moved house" rather than saying "it might be because you were black"
I recall volunteering in a hospital and the patient I was to support told my supervisor i don't what her she's a "blackey" and my words firm in response "you can be helped or stay hungry" but my hands felt damp and clammy. Maybe it was when asked to travel to Slovakia to see one of my friends and her new baby, my first thought was about my daughter being stared at and of course for our safety.
The recent Black Lives Matter movement has amplified the injustice and lack of understanding about the severity of the issues faced, if you are judged not for your values or experience but simply your race. I know there are so many who want to support, don't know what to say to help and therefore feel powerless, Let me tell you now that the feeling is mutual but we must take action not just use words due to our own cowardice. We can progress by not being afraid to ask, listen and challenge our own mindset and behaviours as well as those of others, by having that awkward conversation where there are simply no right or wrong answers. Learn together, stand strong, be brave when you hear others behave or say things that are just not right; don't be complicit in those jokes or forward memes, understand our fight is your fight.
Yes you may never understand how it feels to be in my shoes or stand in place, Like you, I never chose my skin colour, I make no apology for it nor wish to change, Recognise white privilege does exist and that now, more than ever we all belong to the same, one human race.
Twitter: @karla_parker
Email: [email protected]

This is the YouTube video when shared this work with my work team

#blacklivesmatter #blm #equality #diversity