Every year I decorated the Christmas tree together with my mother. The last year I could only give the Christmas decoration to my mother and take them back from her.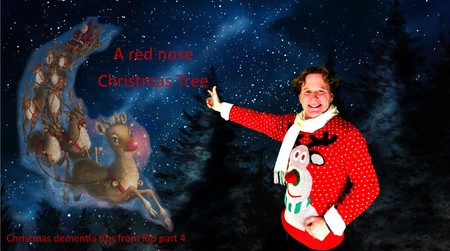 You could think that's nothing, but this little thing means a lot to my mother, because in this way she was still involved in the Christmas preparations, a holiday she loved so much.
Please remember, the little things become very big things for a person who is wandering in the dementia fog.

So a Rudolph dementia reindeer always finds a way to involve a person with dementia into the Christmas spirit, how small the action may be. Rudolph knows "the little things are the big things".
Red Nose Tips from Rip:
The person with dementia could:
Take the decorations out of the boxes
Hand the decorations to you
Hang the decorations into the tree
Doing the tree lights together
A little reminder: You always can buy new Christmas balls but you can't buy happiness!
In our gift giving and our merriment
With our family and friends and loved ones
The real and true meaning of Christmas
O Christmas tree, o Christmas tree
How lovely are thy branches
O Christmas tree, o Christmas tree
How lovely are thy branches