The COVID-19 pandemic propelled us all in to the unknown and presented numerous challenges and obstacles.
One of these was how colleagues could continue to communicate effectively and efficiently, with many now working remotely. It became clear that a system was needed that would allow colleagues to remain virtually together and Microsoft Teams provided the solution to this.
Initially, the platform was introduced and used as a way for people to keep in touch with each other. However, the uses and benefits of the system soon evolved and it became possible to offer training sessions both internally and externally to partners in the community. This was a real benefit, as it allowed people to take part in training without needing to be physically present in the same place and without fully taking them away from their usual daily roles.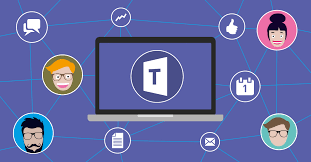 It was also evident that the technology could be used to benefit our patients, with the Maternity Team providing ante natal classes and breast feeding support electronically. The Live Event function means that the sessions can also be viewed at a later time or date so nobody needs to miss out as a result of being unavailable at a specific time. Doctors have also been using MS Teams to carry out their Grand Rounds.
Charlene Hogg, Clinical Systems Trainer, said: "The successful implementation of any new system is largely as a result of having a responsive workforce. I was really encouraged by the positive feedback I was receiving from everyone that was participating in MS Teams training. I continue to listen to feedback and evaluate ways that the system could work well for the individual highlighting a requirement. Through reflection of successes already accomplished and research into upcoming possibilities our knowledge grows and together we are building a foundation of a more efficient and effective way of working."
An added bonus of the system is that NHSmail is directly linked to the MS Teams account. Therefore, everybody with an NHS email address already has an MS Teams account ready to be used and it can be accessed on any device.
The implementation of MS Teams has been received incredibly well by both clinical and non-clinical staff. The COVID-19 pandemic provided the opportunity to innovate and act quickly to embrace change and make necessary transformations within the Trust. People that would normally approach technology with caution are now intrigued by its prospects.
While the introduction of MS Teams has been largely positive and problem free, it has highlighted the need for the correct infrastructure to be in place to support technological changes. With MS teams, it is beneficial for staff to have devices with microphones and cameras for example.
The Medway Innovation Institute could support the further development of this project by assisting with improved user devices allowing staff to maximise the potential uses of the system. It also provides a platform for staff to be able to talk about what needs improving and share their ideas on how to achieve this.