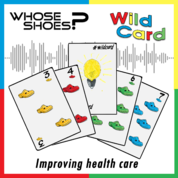 Welcome to Wild Card – Whose Shoes! Gill Phillips , the creator of Whose Shoes is the host of this incredibly engaging and popular podcast series
Gill was inspired to build on her inclusion in the Health Services Journal 'WILD CARDS', part of #HSJ100, and particularly the shoutout for 'improving care for some of the most vulnerable in society through co-production', to chat to a really diverse group of people, providing a platform for them to speak about their experiences and opinions.
If you are interested in the future of healthcare and like to hear what other people think, or perhaps even contribute at some point, 'Whose Shoes Wild Card' is for you!
Now all of the episodes are great but it would be remiss of me not to highlight Rachel Jury aka #Rocking2Stomas interview with Gill. Rachel Jury, is winner of the National Diversity Award 2018 for positive role model for disability. She tweets as @Rocking2Stomas, is the Social media Manager for @fabNHSStuff and refers to herself as one of the community of 'Double Baggers', don't miss Rachel breaking a few more taboos.
You can find the podcast series HERE