Regional Community Hospital Study Day
Helen Ballam
Ward Manager
West Suffolk Hospital Foundation Trust
Summary:
The innovation was a local community hospital study day, to enable staff from community hospitals in the area to come together to share their achievements and challenges.
The aims were to:
To learn from each other and start to build supportive network of like-minded colleagues all working within community hospitals.
This was in absence of national community hospitals conference and a desire to learn more about the role and function of community hospitals and their place in the healthcare system.
To establish a local group who could support each other and showcase their work.
Background:
The idea stemmed from a change comment on social media and just grew.
Staring with a desire to find out more about the role and purpose of community hospitals, then finding CHA website and sharing ideas on social media, driving a desire to learn more about how other community hospitals function.
Description:
With the support of CHA, local community hospitals were identified and invited to attend the workshops.
A programme was developed to allow time for getting to know each other, share best practice and fields of work. The theme was achievements and challenges identifying the positives while recognizing challenges of community hospitals.
Members of the CHA facilitated the day and collated the feedback, they also helped to publicize the event, send out invites and were very supportive of the idea.
The day consisted of presentations, group work, tours of the hospital, the same lunch as the patients were served and lots of talking, laughing and networking.
The room was full of energy throughout the day, lots of talking, sharing and learning.
Feedback was very positive and included "networking. So many ideas to take back", "great to be with like-minded colleagues", "highly valuable and supportive". All delegates were willing to host further events.
The opportunity to spend time meeting others working in the same unique environment was so worthwhile. Plans were made to hold more events, unfortunately Covid put a hold on this.
Delegates included nurses, therapists, manages, matrons and CHA staff. Each person had a contribution to male and it was evident the diversity of experience and broad skill set of people how diverse community hospitals are.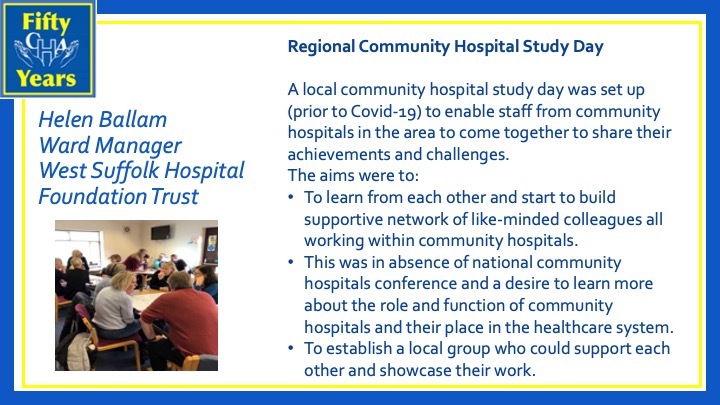 For further information contact: [email protected]