The Pharmacy dispensary and stores at the University Hospital of North Tees NHS is led by Umair Hamid, Associate Chief Pharmacist (Operations). Together with his fantastic team of technicians and assistants, Umair has played a critical role in finalising the business case, liaising with the Digital Programmes Team and robotics supplier, and implementation of the whole system.
Pharmacy stores and dispensary distributes 225,000 inpatient and stock items every year. This process has historically involved picking individual packs of medicines from a shelf, ensuring stock is in date and levels are correct manually.
Recent legislation aimed at removing the risk of falsified medicines being supplied in the UK supply chain. To comply locally, 36,000 packs of medicines received each month into our pharmacy store, would have to be manually scanned to confirm validity against a central EU database. This manual process would take up time from pharmacy assistants away from ward based activities.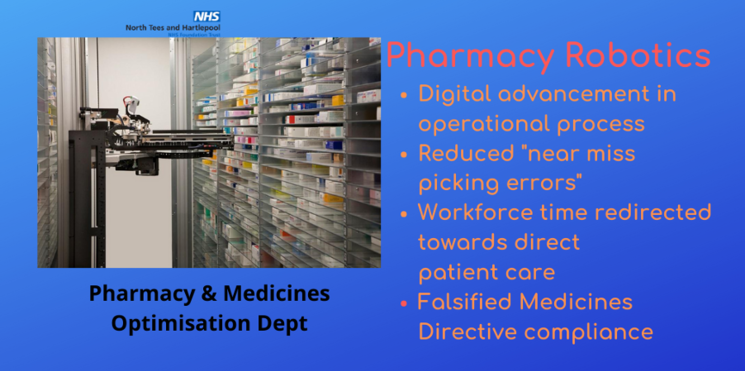 Pharmacy automation in the form of two BD Rowa Vmax robots has allowed our service to supply medicines in a lean manner, reducing the likelihood of medicines picking errors. Recent advancements in technology have also enabled the development of a standalone system to seamlessly integrate the process of verifying medicines as authentic by our robots, preventing the need for extra recruitment and staff costs mentioned above.
We implemented automation in our dispensing process to reduce picking human errors, manage stock automatically and ensure products that are dispensed and supplied are authentic. This was a collaborative project between our Pharmacy & Medicines Optimisation Department, Trust Digital Programmes Team and product vendor (BD). Impact assessment tools were completed following business case approval.
Implementation of the pharmacy automation process has yielded a significant number of benefits e.g. reduction in human errors relating to picking the wrong medicine leading to "near miss" incidents, efficient use of resources on time taken to supply routine ward 'top ups' as stock, and the closed-loop supply function that we have achieved by incorporating Omnicell cabinet technology has also helped significantly with benefits realisation.
Our journey to legislative compliance with the Falsified Medicines Directive (FMD) has been significantly supported by automation. Within 3 months of installation, 70% of all packs of medicines received into our pharmacy store have been automatically verified upon loading into our robots. Time saved has been reinvested on supporting wards and other clinical areas to focus on improved stock control and minimising medicines waste. This was particularly beneficial during the pandemic, where extra support was provided to areas such as our Intensive Care Unit by our team.
An automated remote dispensing system has meant that on-call pharmacists, on average, have 50% less likelihood of attending the pharmacy department out-of-hours to dispense critical medicines. Such medicines can now be dispensed remotely, from the pharmacists' home, to a secure, locked location on site, accessible by Bed Managers.
Ensuring the authenticity of medicines in our supply chain has far-reaching consequences. Although there are several steps to ensure the medicines we use are safe and authentic prior to reaching us, the verification and decommissioning of packs using our automated system closes the supply loop. It means that medicines that leave the hospital for our patients, or those supplied by us to community clinics or other areas could be traced if pharmacovigilance initiatives, such as MHRA drug recalls, require this. This puts safety and efficiency at the heart of all medicines use, not just for patients seeking services in our Trust, but in their journey following discharge from us.
This collaborative approach has provided a positive impact to both Digital Programmes and Pharmacy & Medicines Optimisation teams, providing valuable lessons learnt for future medicines related projects scheduled in the coming year.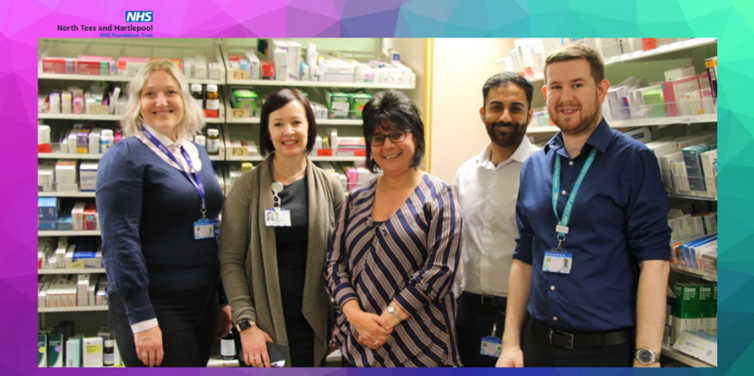 An official opening ceremony was initially planned, with a number of key stakeholders from within our Trust and across our wider health economy due to attend. Due to the COVID19 pandemic, we unfortunately have had to postpone this event. We have instead shared our success locally in the form of staff communications and other social media platforms for the time being, with a view to reschedule the event at a later date.
We have also worked closely with the vendor (BD) to share our experience of practical use following implementation, sharing lessons learnt with them to support other customers using the software in future.
Dr Mojgan H Sani (Director Medicines Optimisation & Chief Pharmacist) commented on "Umair's great leadership skills in making change happen in a safe and effective manner, taking the team on the journey". Mojgan also expressed "huge thanks to the Digital Programmes Team for the support from Dr. Graham Evans, Gillian Colquhoun & Kat Sykes for enabling the process".