Margaret was admitted to Lincoln County Hospital with pneumonia and muscle weakness in her foot.
When she was discharged nine days later, Margaret felt in two minds about returning home alone. "I'm pleased to be going, but it's been a bit of a rush," Margaret says. "[In the] morning, the doctor said, 'oh, we'll keep you until we've got everything sorted', then at lunchtime I got the news that I'd be going that afternoon." With no transport or support in place, Margaret began fretting about going back to her house by herself. "I live on my own and I've only got a cousin who's got a car," Margaret explains. "Well he's out today, I knew that. I thought 'well, had I better get a taxi?' but then I thought no, because they're not there to help you with your luggage and get you safely through the door." Margaret was deemed fit to go home but her personal circumstances and needs were not considered.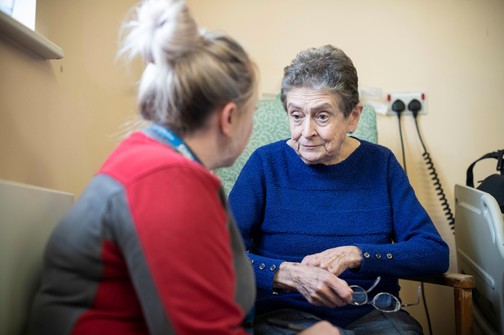 The Red Cross, alongside the NHS Trust, introduced a person-centred assisted discharge service pilot. Red Cross volunteers and staff were trained to use the #WhatMattersToMe conversation with people waiting to go home, many of whom were anxious. The Red Cross' trusted emblem and this proactive conversation, gave permission for people to share the 'little things' that they didn't want to bother 'busy doctors and nurses' with. The Red Cross tested this person-centred, non-judgemental and non-clinical approach within a hospital setting.
The service was set up to be run by a team of three staff and two volunteers. Based on analysis from people with lived experience who used Red Cross services in other hospitals, the Red Cross put in place: transport home, help with groceries, electricity checks, water checks and a reassuring chat over a cup of tea. This allowed the team to make sure that concerns were resolved. The conversations were captured and evaluated as part of outcome checking back at the office. Follow-up checks tracked progress and objectively tested assumptions on the impact of the support.
Margaret had no idea the extent of support that was available on her doorstep. Now, she can't imagine not having this assisted discharge service, which she feels has taken a huge weight off her mind. "It could be a problem, because with them changing their minds with when I could go home, I think some would suffer." Margaret feels like these small acts of kindness are essential for others in a similar situation. "It is appreciated. I didn't really realise that this service was needed. Well I needed it and you bridged the gap." The pilot was such a success (supporting 262 people) that it has been funded for its second year. The Red Cross and hospital teams have been delighted by the results and are keen to continue the collaboration. The Red Cross will continue to take the time to look at all the basics that are often overlooked when someone is returning to a cold and empty house.
Alison Kaye - Head of Development