Paul Devlin from the NHS Emergency Care Improvement Support Team, teamed up with Fab Change 2019 and GIANT at this years event at Chelsea Football Club.
The aim of the ham radio station is to promote best practice in health and well-being globally.
Over 40% of the worlds population do not have access to traditional forms of communications such as cell phones, internet or in some cases land lines.
Short wave radio communications however are accessible everywhere even the most remote areas of the world. The system is often used by the military, disaster management services, NASA and the aviation industry due to its versatility.
Paul is delighted to be able to use his radio ham skills to help the NHS "Fab" it's communications capabilities.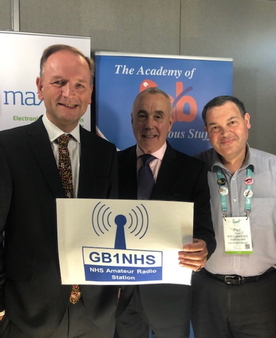 Our very own Roy Lilley played a key role in launching GB1NHS in April 2018. He has also proactively supported the station since its launch.
Paul is particularly grateful to Roy for introducing Simon Stephens Chief Executive of NHS England to the concept of ham radio and the work of GB1NHS.
Keeping the station on the air and active on social media is a team effort. ECIST colleagues Pete Gordon, Nick Holding and Stephan Natawidjaja all form part of this Fab Radio Team.




People are amazed by the ability to communicate so widely using the restricted radio frequencies reserved for use by licensed radio hams.
@NHS_Man_John @DaniG4_ @Little_Lundsten @vincentbaxter8

Paul is very keen to attract people into the world of global communications using short wave radio. If anyone would like to know more about GB1NHS please contact Paul (details below).
@DevlinPJ
Twitter @GB1NHS